Do you want to achieve the dream of homeownership but dread the looming down payment you'll need? Figuring out how to come up with a down payment for a house can seem like a huge hurdle, especially to those with little to no savings.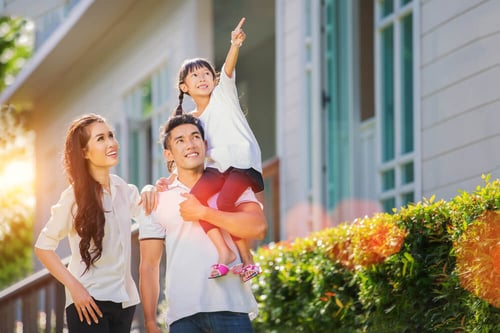 Conventional loans can require a 20% down payment, but did you know there are many loan programs available, some which require a minimal or even no down payment at all? It's important to understand the different loan options available. Find out more about each of these low or no down payment programs and determine what you might qualify for.
Local Down Payment Assistance Programs
Many state or local down payment assistance programs reduce or eliminate the need for a down payment. They are often in the form of an interest-free, "silent" second mortgage that doesn't need to be repaid until the house is sold, refinanced, or paid in full.
One example is California Housing Finance Agency (CalHFA) MyHome Assistance Program, which offers a second loan up to 3.5% of the purchase price or appraised value to help with down payment and/or closing costs.
Programs vary by state and city. To find down payment assistance programs near you, contact your state's Department of Housing and Urban Development (HUD).
Freddie Mac Home Possible Advantage(SM)
The Home Possible Advantage program is attractive because it allows for a low down payment and flexible sources of funds to qualify. In addition to flexible funding, it provides up to 97% financing and offers down payment assistance programs, which can be through a silent second.
Home Ready by Fannie Mae
As an alternative to an FHA loan, Home Ready is a conventional 3% down loan with even more flexible income qualification guidelines. In addition, Home Ready may have reduced mortgage insurance options, including no upfront mortgage insurance fees and may be cancelable per servicer/Fannie Mae guidelines. Gift funds or Community seconds are also allowable for the down payment.
FHA Loans
FHA loans have been specifically designed to help first-time borrowers get into homes. Because these loans are insured by the Federal Housing Administration, and come with a government guarantee, lenders are more willing to have flexible qualifying guidelines.
With an FHA loan, the down payment can be as low as 3.5% and can be provided from a family member as a gift fund. Credit scores to 640, lower debt ratios, and seller contributions are all allowed with a FHA loan.
VA Loans
VA Loans are available to veterans, actively serving military personnel, and surviving spouses of veterans. They are government backed and encourage lenders to lend with more lenient qualifying guidelines.
VA loans offer up to 100% financing, without mortgage insurance. Veterans can qualify for a VA loan with suitable credit, adequate income, and a valid Certificate of Eligibility.
USDA Loans
USDA loans offer a no down payment requirement for buyers. These loans are government insured 100% purchase loans for rural property outside of major metropolitan areas.
The requirements for a USDA loan are very specific, so our specialized loan experts at American Pacific Mortgage can help determine if you qualify under the current guidelines. As long as you meet the USDA requirements, you can get 100% financing when you purchase your rural home.
Qualifications include a fixed-rate mortgage loan up to $424,100, single family-dwellings, PUD or condos as the owner's primary residence, and up to 97% LTV financing.
Saving for a down payment may seem overwhelming, but with the plethora of programs available, we are confident that we can help find a loan program that is right for you. Talk with one of our loan advisors today to learn more about the different down payment options and find out which ones you may qualify for.